Direct From Farm To World Market Program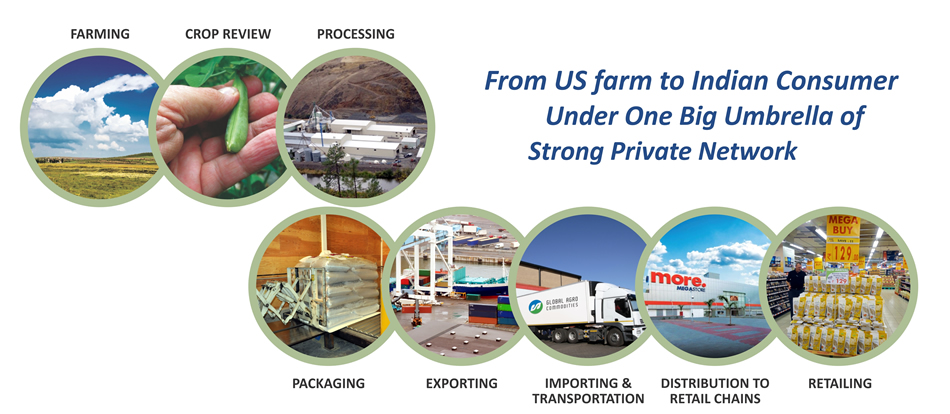 Interview with Montana Grower
As a Globally responsible company, we strive to improve the Quality of Life for Employees, Customer and Communities through various interventions. Our "Direct 'From Farm To Market' Program" is one such an important initiative.
Through this program we aim to enable the development of a robust Supply Chain, Link Farming Communities directly to our Consumers, and Introduce Best Practices in Farming & Improve the overall Quality of life of the Farming Community we engage with.
Global Agro Commodities is investing in establishing an efficient Supply Chain Management Operation to help make it efficient, thereby maximizing value for Farmers and Retailers as well as Consumers.
Direct Farm Program began in 2012 with to growers in Montana and is under expansion to include over 250 high capacity Growers across State of Montana. The grower who joined this program are unique & very knowledgeable. These growers currently supply key pulse crops locally grown which account for about 15% of our supply requirements. The objective is to build and implement a sustainable & differentiated crop production model, which will deliver clear economic benefits to growers.
Benefits to Growers
Higher Price to Growers than what they get from market.
Higher Price Incentive for the quality of the produce grower delivers to Global Agro Commodities based on customer requirement.
Expert advice on better Crop Planning and Management.
Expert advice on Market Trend & Outlook.
Efficient Crop Selling Calendar Management aimed at catching early and late seasons for better prices.
Opportunity to maximize and improve income by offering better quality.
What Growers Says
September 13, 2013
To Whom It May Concern.
Divyesh Patel from Global Agro Commodities asked to me to write a letter in support of his pulse buying and processing business in Montana. I am pleased to write a letter in support of his business.
I have been growing pulse crops in Montana since the mid-1990s. I have had the opportunity to do business with many pulse crop buyers over the years and most have been very good to deal with.
I have done business with Divyesh (Global Agro Commodities) for about a year now it has been a very rewarding experience. Divyesh has been straight forward and honest in our dealings. Honesty fairness and trust are very important, I believe Divyesh has these qualities but beyond that he brings a whole new prospective to our industry. Through his retail packaging and distribution network Divyesh has brought the producers closer to the end consumer. I think it is very important for our industry to have strong and innovative buyers/processors of our products. I think Divyesh works every day to source quality product and look for new markets for our crops
I have seen the pulse industry in my area struggle for years; we had limited production and very few local buyers. Today the pulse industry in north central Montana is an exciting industry. No one knows what the future will bring but I believe that pulse crops will have a very positive economic impact in our area and Divyesh and his company will be here to help us market our high quality products to the world.
Sincerely,
Jon Stoner
Grower